Existing optical encoder "ME-16" has been fully updated.
The concept is "keep performance and miniaturization" and we achieve 50% shorter length than existing optical encoder.
When combine Φ16 to 24mm coreless motors or gearhead, they can meet requirements for medical equipments, robotics, optical products and miniaturization.
Details can be shown on technical data sheet "optical encoder" and catalog on page 51 "Φ16 optical encoder MK-16" (downloadable from our homepage).
Specification Optical encoder MK-16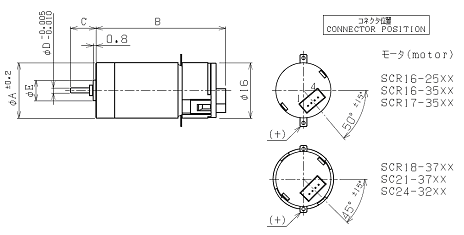 | | |
| --- | --- |
| Type | Incremental |
| Sensor | Optical(reflection type) |
| diameter | Φ16mm |
| Length | 11.3mm |
| Number of Channel | 2(A, B) |
| Resolution | 36 to 200P/R |
| Maximum response | 30 to 60 KHz |
| Output signal | TTL compatible |
Outline optical encoder MK-16
When you want to know more detail information of optical encoder MK-16, please contact our sales team without constraint.
New products information (small and high efficiency coreless motor)
Realize higher torque even if diameter and length is same as existing motors by original winding technology.
They are the best solution for high mobility performance of robotics, medical equipments, measurement equipments, testing equipment and for miniaturization of various other equipments.
In addition we also develop brushless motor that is applied same winding technology, these can meet various requirements.
Small size
Diameter and length: 1:Φ13×13L/Φ16×16L
Higher output efficiency
Introduced special winding technology then can be higher efficiency than existing coreless motors.
Small, light, save energy
They are the most suitable for battery operation equipments due to light weight and save energy.
Controllability
Due to lower inertia, response speed is exceeded for forward and reverse control.
Options
Winding spec, metal or carbon brush, single output or double output shaft, magnetic or optical encoder, gearhead (planetary or spur).